Payment options

Credit cards: Amex Master Visa
PayPal
Cash in advance
(Cash discount: 2%)
COD (check if available)
not for every country
How much is 1 EUR?
1 EUR is approx 1.1 USD or 0.7 GBP
How to calculate the price?
USD: 10% more
Pound: 30% less
Note: We cannot guarantee the accuracy of these rates!
You have a actual course, please use a currency convertor!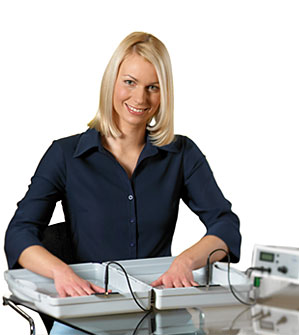 Hidrex GS400
Iontophoresis Device with Direct Current
HIDREX GS 400 Direct Current (DC) Iontophoresis Device
The Hidrex GS 400 (DC) is an iontophoresis machine for the treatment for hyperhidrosis and comes with an eight week money-back guarantee.
Included in the set is:
The Iontophoresis device Hidrex GS 400
a carrying case – offering the ability to divide into two treatment tubs
aluminum electrode plates (for the treatment of hands or feet)
connection cables
wide range AC 110-240V adapter offers worldwide operation with available either optional EU/US or UK plug
two year warranty
Optional extras:
Stainless Steel electrodes – the device comes with Aluminium electrodes as standard but can be fitted with Stainless Steel electrodes instead. Stainless Steel electrodes are easier to clean and require less frequent. They are more scratch resistant and can resist attack from calcium. If you do not suffer from a nickel or chromium allergy we recommend the option of stainless steel electrodes.
The purchase price includes access to an experienced support team who can advise you in your iontophoresis treatment plan. Access to the Premium Support Iontophoresis Forum where you will find a lot of helpful information including an e-book on iontophoresis and hints, tricks and tips from other successful users.
Particulars of Hidrex GS 400 (DC): The device is operated by means of a stable and scratch resistant control pad. Similar type control pads and buttons are used extensively in the medical industry and can withstand heavy use before wearing out.
This is a traditional iontophoresis device producing DC up to 60 volts, 35 mA. You can choose treatment times of up to an hour.
It has a memory function to store treatment times and current levels.
The device is easy to use and the control pad feature allows treatments to be fully automated making easy and unaided use of the machine possible.
Features:
Mains plug so no requirement for expensive batteries
No electric shocks (electric fence effect has been eliminated)
Compact and lightweight (only 2.5 kg)
Allows simultaneous treatment of possible hands and feet
Smart carrying case
Modern design
Two year warranty
Do-it-yourself home use even when only treating hands. Other models are characterized by a footswitch. This device automatically recognizes the therapy start, slowly builds up the treatment current and at the end of the treatment will switch the current off again.
Also available with switchable Direct and Pulsed Iontophoresis current for very sensitive patients (e.g. for the treatment of severe sweating in children) and absolutely recommendable for hands and armpit sweat treatment.

Click here to find out more about the iontophoresis pulsating current
Iontophoresis Contraindications
No doctor's prescription needed!
SITE Description:
This site contains a product presentation for the GS 400 HIDREX iontophoresis machine, used for the treatment of excessive sweating. Are you looking for help with excessive sweating and want to learn more about iontophoresis? Here you will find an overview of the features and performance of our suite of iontophoresis machines and you will have the chance to purchase one of these machines online.
The Hidrex device is a powerful iontophoresis devices used for the fight against excessive sweating on the feet.



Some Forum reviews concerning the Hidrex:
Hidrex PSP 1000 SUCCESS!
Success after 10 treatments - HIDREX PSP1000
Still happy!!!
Comfortable Dry Palms..
Hidrex PSP1000: Decreasing success during maintenance
Succes with Hidrex PSP 1000
Hidrex1000 the joy of dry palms!
I love the hidrex only one question
Visit our success board to
see more iontophoresis reviews
Our direct current iontophoresis device against sweating, stops the sweat. Suitable for armpits, sweaty feet and handsweat.