Payment options

Credit cards: Amex Master Visa
PayPal
Cash in advance
(Cash discount: 2%)
COD (check if available)
not for every country
How much is 1 EUR?
1 EUR is approx 1.1 USD or 0.7 GBP
How to calculate the price?
USD: 10% more
Pound: 30% less
Note: We cannot guarantee the accuracy of these rates!
You have a actual course, please use a currency convertor!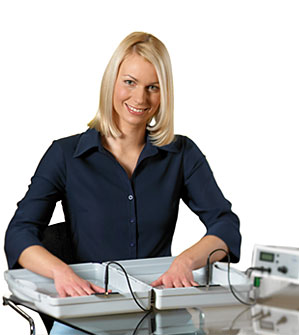 Hidrex classicION
Iontophoresis Device with Direct or Pulsed Current
Hidrex ClassicION - Iontophoresis with Pulsed or Direct Current
The classicION combines two techniques: it can offer traditional pulsed current as well as direct current. This "two gear" iontophoresis device is the right machine for both sensitive and resistant body parts.
Due to the classic pulsed iontophoresis current (50%), this iontophoresis device allows the treatment of very sensitive body parts, which are difficult and time-consuming to treat with direct currents.
Which body parts can be treated with the classicION?
At 50%: Very sensitive areas such as underarms, face, back, nape of the neck, belly etc.
At 100%: Rather robust areas such as hands or feet.
Background knowledeg: The treatment of feet and hands is also possible with the classic direct current, though only with certain limitations.
What are the limitations?
Iontophoresis current commonly perceived as very gentle: 50%
Iontophoresis current commonly perceived as very harsh: 100%
In all currents in between, the current becomes more difficult to bear as the pulse width rises. The last steps above 90% feel extraordinarily harsh. To lower the current beneath 50% makes little to no sense, since the efficiency is diminished by such a low value.
It is important to note that the Hidrex connectION offers a pulsed current that can be adjusted in terms of intensity. This allows the user to adjust the pulsed current (above 50%) to the treatment areas, taking steps of 10%. This is why we advise our customers to switch to the Hidrex connectION. This machine is a "6 gear" iontophoresis device.
No discomfort - short iontophoresis treatment sessions
During the iontophoresis treatment, the current needs to be low enough not to cause any pain. This threshold is reached very fast during the treatment with direct current, which means that users resort to weaker currents. Weaker currents usually result in a diminished efficiency of the treatment.
This pain threshold is able to be shifted to much higher currents and consequently an improved comfort zone when using pulsed current. At the same time, the energy you'll receive during the treatment increases during a pulsed current session. Once the pain threshold has been reached, this energy can only be controlled by adjusting the treatment time.
Iontophoresis - too complicated?
A nice metaphor: the bicycle and the mountain.
Let's picture a steep hill (our personal perception of pain) and a bicycle (our tool "iontophoresis"). The top of the mountain promises a beautiful view, satisfaction with our achievement and the pleasant anticipation of what's to come (enough received energy: get rid of the sweat). Which bicycle should we take? The one with 2 or the one with 6 gears?
If we drive in the highest gear (100%), it's very possible that we will never reach the top of the mountain, because it's simply too steep. If we reduce to 50%, we will not reach the top as fast as we would driving in the 5th gear, using 90% - almost twice as efficient.
Time is not to be underestimated.
The time each patient has to invest into their iontophoresis treatment differs widely. Approximately 30 minutes per week are the normal standard - this is aided by a well-adjusted therapy setting. If the therapy is optimised and the time reduced by 50%, this same user would spend 240 hours doing iontophoresis in 20 years of treating their hyperhidrosis. This does not sound like such a high value. However, if you have a half hour session every day and treat your feet, hands or underarms on top of that, an optimised therapy that allows for a time reduction of, say, 66% can be a true life changer. This potential to be optimised* is often highly available during the iontophoresis treatment, due to its personalised nature. In the above mentioned case, the saved time equals 6720 hours or 280 days! Wow!
Which aid do I take? The one with 2 or the one with 6 gears?
The Hidrex classicION is a traditional iontophoresis machine with two gears: 50% and 100%. With the Hidrex connectION, we offer you an iontophoresis device with 6! gears.
However, that is not all: the Hidrex connectION can be controlled via app. This app is developed continuously, but it already offers a clear glimpse into the therapy. It shows factors such as pulse width, therapy time, current (in V and mA) and allows a definition of the body resistance, which can give insights into the efficiency of the pulse width. A high body resistance can result in an unnecessarily high current - if the body resistance can be reduced to a value that is considered normal within the framework of iontophoresis, the pulse could be lowered and the current elevated - the goal: saving time while achieving optimal comfort during the treatment.
For this reason, we advise our customer to choose the Hidrex connectION or the Idromed 5 PS (the automatic, if you will, that allows no mistakes. The usage could not be simpler: one button is enough to adjust all parameters). Even though these machines are more expensive initially, it's an investion that will pay off in the long run.
OUR SERVICE: Should you realise that you only use the connectION with 50% or 100% pulse width (which will certainly not be the case) or the automatic version of the Idromed 5 PS leaves you feeling like you have to optimise your treatment: we switch every device for another one within the first 12 weeks after your order to make sure you are completely satisfied with the therapy, the therapy time, the comfort and our customer service.
Of course we are always glad to help you personally, in our forum, via phone or e-mail. We answer all questions that might arise during the treatment or the choice of our devices.
The standard set includes:
- Iontophoresis device Hidrex classicION (direct and 50% pulsed current)
- Mains plug
- Case (able to be split into two treatment tubs)
- Cables
- Electrode plates (for the treatment of feet and hands)
- Grids
- User manual


The Hidrex iontophoresis device has a guarantee of two years.
Optional
Choice of electrodes: if you are NOT allergic to nickel or chrome, we advise you to choose the stainless steel electrodes. They are much simpler to clean and do not have to be cleaned as frequently as aluminium electrodes. Stainless steel is much less susceptible to scratches, dirt or lime scale.
The surface of this iontophoresis device consists of polyethylene and is very thick, resistant to scratches, stable and abrasion-proof. The hidden control elements (pressure sensors) originated in the orthopaedic field and are used, among other things, in the making of wheel chairs. They are extraordinarily robust and can be pressed many times, since they are also used in a clinical environment. There is no button, which makes cleaning much easier.
Included in the price: support and guidance concerning the setting of the iontophoresis therapy. You will receive support from a seasoned and experienced team for all questions regarding iontophoresis treatment to counter hyperhidrosis. If you wish, you will recieve access to our closed premium support section in our iontophoresis forum, which is an e-book of sorts that contains tips, advice and life hacks concerning the iontophoresis treatment.
Contraindications of iontophoresis
Buyer's advice and presentation of the Hidrex ClassicION for the usage of iontophoresis to battle excessive sweating, also known as hyperhidrosis. Looking for help concerning the topics "I'm sweating" and "how can I stop sweating with iontophoresis"? Here, you will find an overview and a test of our devices against sweating.

A pulsed current version of this machine which can also use direct current: Hidrex Iontophoresis Device PSP 1000

Buy your iontophoresis device via instalment payment!



Some Forum reviews concerning the Hidrex:
Hidrex PSP 1000 SUCCESS!
Success after 10 treatments - HIDREX PSP1000
Still happy!!!
Comfortable Dry Palms..
Hidrex PSP1000: Decreasing success during maintenance
Succes with Hidrex PSP 1000
Hidrex1000 the joy of dry palms!
I love the hidrex only one question
Visit our success board to
see more iontophoresis reviews
Our direct current iontophoresis device against sweating, stops the sweat. Suitable for armpits, sweaty feet and handsweat.