Payment options

Credit cards: Amex Master Visa
PayPal
Cash in advance
(Cash discount: 2%)
COD (check if available)
not for every country
How much is 1 EUR?
1 EUR is approx 1.1 USD or 0.7 GBP
How to calculate the price?
USD: 10% more
Pound: 30% less
Note: We cannot guarantee the accuracy of these rates!
You have a actual course, please use a currency convertor!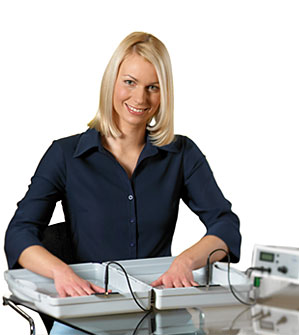 Idromed 5 PC 6 instalments
Iontophoresis Device PC (pulsed current)
Tabs
Idromed 5 PS Pulsed Current (PC) Iontophoresis Device
Pay in 6 instalments - This Idromed unit produces a pulsed therapy current. With the Idromed 5 PC you will not feel the current as much as you would with other Iontophoresis devices – allowing for a smoother more comfortable treatment.
---
** At the moment, the company Dr. Hoenle, manufacturer of Idromed devices, offers just the original aluminium electrodes and does not allow electrodes of any other material. If you still want to do the therapy with stainless steel electrodes (or electrodes of any other material), you can buy them on this page but separately and in addition to the original aluminium electrodes. Please note that the additional stainless steel electrodes are from another manufacturer. The warranty of the manufacturer Dr. Hoenle does not cover the use of parts made out of other materials than the original ones of the Idromed devices.
Information about which electrodes to choose: If you do not suffer from any allergy against nickel or chrome, we suggest nevertheless to buy the stainless steel electrodes. Stainless steel does not need to be cleaned as often as the aluminium electrodes and the cleaning itself is a lot easier. Stainless steel is also more robust and resistant to dirt and scale than aluminium.
---
Direct and pulsed current units will both have the same results, but a pulsed current Idromed is a must for…
- Sensitive patients (especially children)
- Underarm usage
- A more delicate treatment and because of this: The possibility to choose higher current levels, for better and faster success, and the chance having less iontophoresis sessions a week
You may choose the material electrodes in the set come with. They are available in Aluminium and Stainless steel. We recommend to take the Stainless Steel upgrade for if the user has no nickle or chorme allergy. Stainless Steel contains this materials in a very low dosage, the aluminum electrodes not. The advantages of the Stainless Stell are: the easy cleaning procedure, and the much lower frequency it must be cleaned. The disadvantage is: they are more expensive. How much they cost more you can see, when choosing the Stainless Steel electrodes as a supplement.
If you want to treat Hyperhidrosis using Iontophoresis-therapy, then the Idromed 5 is the appropriate and reliable unit of choice. Without the use of drugs, with very few side-effects and without surgery. Hyperhidrosis can be treated successfully in the majority of cases.
The standard set includes: Iontophoresis device Idromed5 PC (Pulsed Current-Device) 230/240V version. 1 x Power supply with foot switch, 2 x stainless aluminium plate electrodes (nickel-free), 2 x electrode cables, 2 x distance grids. 1 x shock-proof suitcase; the 2 half's of the suitcase also double as treatment tubs. One manual in English - other languages available too!
NO RISK! Each device has an 8 week trial.
...we offer a full 8 week guarantee. If you are not satisfied with the device, you may return the unit and get a full refund! (This warranty does not cover the arm pit electrode pads)
No doctor's prescription needed!
- Worldwide shipping is included in the price!
- An 8 weeks trial and money back guarantee
- Easy to use!
- No drugs!
- We ship in a neutral pack!
- Both the hands and feet can be treated at the same time!
- We offer a full 4 years warranty!
- Very few side effects!
- Can be used for medical practices and home therapy!
- Quick and very good therapy results!
- Priority Support over our forum


Some Forum reviews concerning the Idromed:
Thanks to Iontophoresis I am dry
3 years of success
5 years works as promised
6 years iontophoresis success
Idromed success after 15 days
Dry after 10 days
Iontophoresis success story
Idromed5 pc is a fabulous device
I have succeed it is unbeliveable

Visit our success board to see more iontophoresis reviews
Our pulsed direct current iontophoresis device against sweating, stops the sweat. Best treatment device for armpits, sweaty feet and handsweat.