Payment options

Credit cards: Amex Master Visa
PayPal
Cash in advance
(Cash discount: 2%)
COD (check if available)
not for every country
How much is 1 EUR?
1 EUR is approx 1.1 USD or 0.7 GBP
How to calculate the price?
USD: 10% more
Pound: 30% less
Note: We cannot guarantee the accuracy of these rates!
You have a actual course, please use a currency convertor!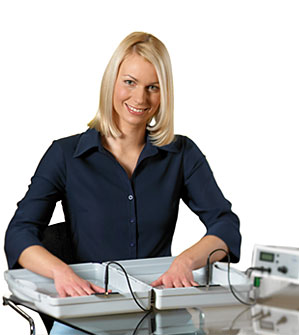 Hidrex connectION 3 Instalments
Iontophoresis Device PC (pulsed current) offers also a direct current mode
Tabs
HIDREX connectION- Pulsed and Direct Current Iontophoresis Device
Pay in 3 instalments - The Hidrex connectION is the best and most professional Iontophoresis Device from Hidrex
The newest iontophoresis device model from the manufacturer Hidrex, is the Hidrex connectION. This professional machine is the successor of the Hidrex PSP1000 and offers an even more individual way of therapy settings, allowing to set the device more specifically, depending on which parts have to be treated. It also it adjustable via app and allows a unique insight into the nature of the iontophoresis treatment. IMPORTANT: this device can be operated even without the app. The app is a great option of deepening your understanding of the iontophoresis treatment!
The Hidrex connectION can be used either in full direct current mode or in different pulsed current modes, depending on the pulse width.
As shown below in the first image, a pulse width of 50% equals a full pulsed current and a pulse width of 100% equals a full direct current. So, the nearer you are to the direct current, the more efficient, but also the more uncomfortable the treatment will be.
If you take a look at the second image, you´ll see the differences between a full pulsed current with a 50% pulse width and a pulsed current with 90% pulse width. So, if you put it in easy words, the bigger the breaks in the time line, the more pulsed current you have. The smaller the breaks, the nearer you are to the full direct current mode.
The advantge of this new device is the following: With the new Hidrex connectION you have 6 different types of current to choose from. Specially when having to treat more than one area, this device is the perfect fit.
For example, a patient who has to treat armpits, hands and feet can do the following:
- he can treat the underarms (a very sensitive body part) with a 50% pulse width
- the hands (also sensitive, but no so much as armpits) with 70% or 80%
- the feet (the least sensitive part of the body) with 100% pulse width
Within each current type, you can still choose the strength of the current. So you see, there is actually no other device which allows such individual and focused settings, depending on the body part which has to be treated. Additionally, this device can be navigated using an app, which allows the patient unique insights into the settings and their body resistance.
Particulars and features of the Hidrex connectION
The device is operated by mains electricity and has a stable and scratch resistant control pad. Similar type control pads and buttons are used extensively in the medical industry and can withstand the heavy use in clicnics as well for home usage, before wearing out.
It has a memory function to store treatment times and current levels.
The device is easy to use and the control pad feature allows treatments to be fully automated, making an easy and unaided use of the machine possible.
Features:
Switchable in 5 steps from full direct current to full pulsed current
Adjustable current strength
Memorys for treatment settings for hand, feet and underarm iontophoresis treatment
Powerful iontophoresis current, most battery operated systems cannot drive these high outputs
Designed and produced in Germany
Certified medical equipment
Used in many clinics in Germany
Works with a mains plug, so no requirement for expensive batteries
No electric shocks (electric fence effect has been eliminated)
Compact and lightweight (only 2.5 kg)
Allows simultaneous treatment of hands and feet
Smart carrying case
Modern design
Stable and callous against scratches or abrasion
Big non-corosive metal electrodes
Two year warranty
Do-it-yourself home use even when only treating hands. Other models are characterized by a footswitch. This device automatically recognizes the therapy start, slowly builds up the treatment current and at the end of the treatment it will switch the current off again.
Switchable Direct and Pulsed current unit for very sensitive patients (e.g. for the treatment of severe sweating in children). It is absolutely recommended for hand sweat and armpit sweat treatments.

Our tip: don't hurt yourself using a direct current machine for underarm or hand treatment -
take a pulsed current machine, it is worth its money absolutely!
The standard set of the Hidrex connectION includes:

1 Hidrex connectION iontophoresis device
1 wide range AC 110-240V walls plug (offers worldwide operation without stepup convertors. Available in US, UK and EU version)
1 carrying case (the two halfs can be divided into two seperate treatment tubs)
2 aluminum electrode plates (used for hand and feet treatment )
1 pair of thick connection cables with a 4 mm Standard banana Plug
1 pair of grids
2 years warrantee
Optional extras:
Stainless Steel electrodes – the standard set comes with aluminium electrodes, but can be fitted with stainless steel electrodes instead. Stainless steel electrodes are easier to clean and require less frequent cleaning. They are more scratch resistant and can better resist lime scale. If you do not suffer from a nickel or chromium allergy we recommend the option of stainless steel electrodes.
Armpit pads and electrodes - for the treatment of underarm sweating. You will need to buy these armpit pads with electrodes in addition to the iontophoresis unit.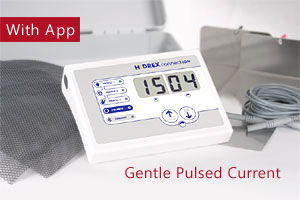 We will not abandon you with your iontophoresis unit ! The purchase price includes also the warranty guarantee and shop features of iontophoresis-device.com shown here. Included is f.e. access to an experienced support team who can advise you in your iontophoresis treatment plan. Access to the Premium Support Iontophoresis Forum where you will find a lot of helpful information including an e-book on iontophoresis and hints, tricks and tips from iontophoresis-device.com and other successful users.
Click here to find out more about iontophoresis therapy
Iontophoresis Contraindications
No doctor's prescription needed!
The Hidrex Pulsed iontophoresis device is one of the most powerful devices on the market. Iontophoresis devices are used for achieve dryness. This can be the answer to your problems with excessive sweat.


Some Forum reviews concerning the Idromed:
Thanks to Iontophoresis I am dry
3 years of success
5 years works as promised
6 years iontophoresis success
Idromed success after 15 days
Dry after 10 days
Iontophoresis success story
Idromed5 pc is a fabulous device
I have succeed it is unbeliveable

Visit our success board to see more iontophoresis reviews
Our direct current iontophoresis device against sweating, stops the sweat. Suitable for armpits, sweaty feet and handsweat.