Payment options

Credit cards: Amex Master Visa
PayPal
Cash in advance
(Cash discount: 2%)
COD (check if available)
not for every country
How much is 1 EUR?
1 EUR is approx 1.1 USD or 0.7 GBP
How to calculate the price?
USD: 10% more
Pound: 30% less
Note: We cannot guarantee the accuracy of these rates!
You have a actual course, please use a currency convertor!
Small Silicone Electrodes
Flexible silicone electrodes for special needs
Small Silicone Electrodes
For Idromed and Hidrex devices you also need a special cable you can choose over "option" to fit the 2 mm banana plug of the electrodes.
Size is 90*50 mm , the electrodes come in thin sponges and can be cuted with a normal scissor.
Price is for a pair - safe when ordering batches.
The Idromed and Hidrex cables do not fit the electrodes!
The plug of the special cables for silicone electrodes is a 2 mm Banana plug. Idromed and Hidrex use a 4 mm shielded banana plug with the same connector (male plug) at the iontophoresis unit. Idromed uses a female (socket) and Hidrex a male (plug) for the standard aluminium or stainless steel electrodes to fit the electrode side. The cable is 4 times thicker, so you must face that the cables for the silicone electrods only last a certain time. They were not designed to last a lifetime, due to the material and the connection to the banana plug. Maybe it is a good idea to order several to have a spare security!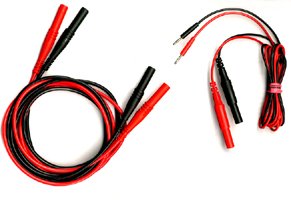 Left picture states standard cables for Hidrex, the right picture shows how the special cable for the silicone electrode looks like.
Size of the small yellow pads:
In cm: Lenght 14 cm x Width 8 cm x Height 0,7 cm
In inch: Lenght 5,5 in x Width 3,1 in x Height 0,2 in